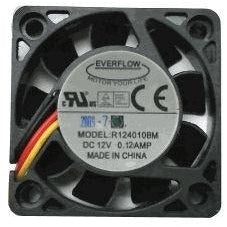 Our 40mm cooling fan options are great for cooling single A/V and computer hardware units, or any number of small electronic devices or relay switches. With our large selection of 40mm fans you can deliver more airflow, to more places, in more ways than you may think.
The Speed You Need
Big things come in small packages, as the saying goes. Our 40mm cooling fan models prove this point effectively. With models available that have a top speed of over 20,000 rpm, you can generate more airflow with a small diameter fan. We also have extremely quiet 40mm fans as low as 3000 rpm's that will provide the cooling you need with minimal noise.
Get Your Equipment
Don't wait for your fan to quit before upgrading it or use a model that doesn't deliver the airflow you need. Check out our selection, and select a fan with the right specs. If one of our stock models isn't the best option, let us produce a custom fan that's tailored to your requirements.

Order today from our online store, or call us today at 877-247-5095. Experience our 100% satisfaction guarantee!