Sorry, there are no products in this collection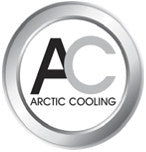 Combining the precision of Swiss engineering and innovative, forward-looking design, Arctic (formerly known as Arctic Cooling,) creates a premium range of cooling systems, CPU cooling elements, video card cooling components, and case cooling solutions.
Cut Out The Noise
With a global presence, Arctic specializes in producing solutions to address a wide range of needs quietly and efficiently. The company's expertise in noise reduction in PCs has since led to a variety of electronics that combine innovative design principles with affordable prices to provide effective solutions for electronic cooling. Our Arctic products include:
Arctic Cooling Accelero Mono Plus VGA Cooler (#DCACO-V430001-BL)


Equipped with a universal mounting mechanism, this device offers full support to a broad range of graphic cards. A 120 mm PWM fan and five heat pipes provide superior cooling capabilities while maintaining a virtually silent environment. This cooling system is HD 7807, 7850, and 7770 compatible.

Arctic Cooling Accelero Twin Turbo (#ACCEL-TT-6990)


Designed for the AMD Radeon HD 6990, the Accelero Twin Turbo 6990 is our most powerful VGA cooler. There is no reason to be inconvenienced by a stock cooler's unnecessary noise any longer as the Accelero Twin Turbo 6990 offers superior cooling performance while minimizing noise. This device is a perfect solution for overclockers and silent enthusiasts alike.

Arctic Cooling arctic RC Pro Ram Heat Spreader


This product is perfect for heat displacement. Its 5 cm long and thick fins maximize surface area to evenly distribute heat. Combined with heat pads, the RC Pro efficiently sends heat away from the RAM through its fins. This device can be used with many Ram types. Please note that it is compatible with single or double sided DDR2, DDR3, and DDR4 SDRAM modules.

Arctic Cooling Freezer 7 LP (ACFZ7LP) 775 CPU Cooler


This device is a Low Profile Intel CPU Cooler optimized for Slim Cases. Since most small chassis users find it difficult to buy a suitable cooler replacement that fits the size of their PC case, the Freezer 7 LP proves to be an innovative Intel CPU cooler that's specially designed for media centre users.
Dependable Quality - Guaranteed
If you'd like to know more about any of our Arctic coolers or components, feel free to contact us. We can be reached during our daily business hours, from 9 am to 4 pm pacific time, Monday through Friday. If you live in the Washington area, our local phone number is 425-821-6400. For nationwide customers, please call our toll-free number: 877-247-5095.
We look forward to helping you find the right Arctic cooling solutions for you!