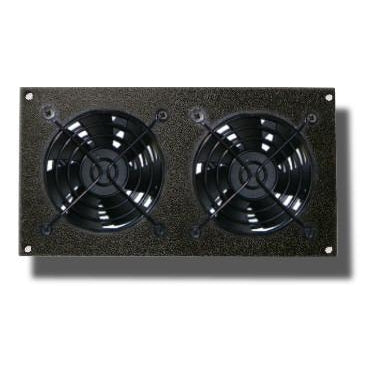 These 5v Lite kits cannot be used with our thermal controllers.
They are powered from an AC-DC power supply that is designed to plug into a switched component or an AC outlet.
You can find an on/off switch for these kits here
5-Volt Cooling Fan Complete Kits (Not Thermal Controllable)
If you are looking for simple cooling systems, you've come to the right place. Our lite kits are made up of 5-volt cooling fans that provide the basic cooling functions you need for your cabinet or home theater. Our lite kits will save you money by shedding all of the extra cooling features you don't need, such as advanced programmable thermal controllers. They are powered with a basic AC-DC power supply, which is designed to plug into a switched component or an AC outlet.
Choose Your Solution
Our lite kits include fans with acrylic, metal, and wood brackets, depending on the material you prefer. These brackets can be painted, and the wood brackets can be stained, so you can match up with your cabinet style. Our fans come in both 80mm and 120mm and you can choose dual or single fans. We also have a dual blower fan component cooler with manual speed control.
Questions?
Our 5-volt cooling fans are built with high-quality components, many of which are locally sourced when we can manage it. These fans are designed and constructed to run forever, so they'll certainly last you a long time. Plus, they're very quiet! We offer 3-year limited warranties on our custom fans to make sure you can have everything working the way you want it. Shop for your lite cooling kit today!
If you have any questions about our cooling kits, or you'd like additional information about installation, you're welcome to call us or email us and we'll be happy to help.