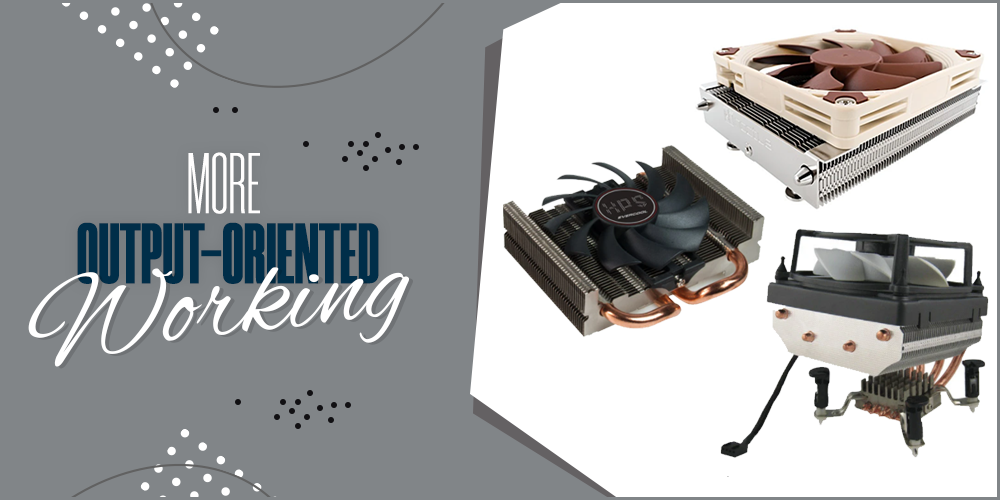 There is always a CPU cooler installed with a CPU that helps the ambient temperature regulation for the appropriate working of the PCs. Modern-day CPUs are high-powered, multi-tasking, and come with advanced methodologies for faster and more efficient outputs. These highly-operational devices are equipped with sophisticated sockets, disks, wiring, chips, etc., that facilitate quicker andcc. During their work, heat regulation comes as a significant parameter that has to be looked after to protect any component damage due to overheating. The cooling systems thus installed ensure an even dissipation of heat for acquiring an optimal range of operating temperatures. 
Installing the CPU Coolers
The CPU coolers work to absorb heat from the system and then redistribute it away from the hardware components. Keeping your system running not just saves your system from potential damage but also enhances the performance of the hot-running chips and the GPU. If you want a more efficient cooler for overclocking and one that would run more quietly, then an aftermarket cooler will almost always prove to be a very worthwhile purchase. AMD socket CPU coolers have made their mark as a purchase worth your decisions regarding smooth and efficient cooling. AMD bundled CPU coolers for Socket AM4 come in two different types. Each uses an additional locking mechanism to secure the motherboard, either by retention clips or spring screws. 
CPU coolers with retention clips

CPU coolers with Spring screws
Let us now look at how the different types of AMD socket CPU coolers, when installed, grant premium quality quiet CPU cooling for AMD-based HTPCs and Small Form Factor systems.
1)NOCTUA NH-L9A-AM4 L-TYPE LOW PROFILE QUIET CPU COOLER FOR AMD INCLUDING AM4 SOCKET (RYZEN)
The NH-L9A is a premium quality quiet CPU cooler for AMD-based HTPCs and Small Form Factor systems. At a super-low profile of only 37mm, the NH-L9A is ideal for extremely slim cases. Due to its 92x114mm footprint, it provides excellent compatibility with tall RAM modules and other components on mini-ITX mainboards. The NH-L9A is a highly-compact low-profile quiet cooler designed in small form factor cases and HTPC environments. While it provides first-rate performance in its class, it is unsuitable for overclocking and is only recommended for CPUs with up to 65W TDP.
2)EVERCOOL LOW PROFILE HEAT PIPE CPU COOLER FOR INTEL OR AMD #EC-HPS-810CP
The standard AMD cooler would be excellent. However, there are a few things on your build which could be tweaked. These are best for very quiet and low Evercool Low Profile Heat Pipe CPU Cooler for Intel or AMD #EC-HPS-810CP
 Intel LGA115X/775

 AMD FM2+/FM2/FM1/AM3+/AM3/AM2+/AM2

 TDP 95W

 Low profile Intel & AMD CPU cooler

 Fins and heat pipe welding process, to ensure maximum heat transfer efficiency

 2 x 6 mm copper heat pipes and H.D.T. (Heat-pipe direct touch) technology

 8 cm insert fan with PWM function

 Support (Thin) Mini-ITX type case and 1U server

 TDP 95W
3)CPUMATE COOLMALL AMD SOCKET A CPU COOLER DA30HM3L
Condition: NEW

Rated AMD up to XP3400+ Socket A

Heat Sin Dimension 91x83x93 (LxWxH)

Fan Dimension 80x80x25mm (LxWxH)

Air Flow 40 CFMFan Speed 2900 RPM

Noise 30dBA @ 3000RPM

Voltage: DC 12V

Connector 3 Pin / 3 Wire
4)GELID SILENT SPIRIT CPU COOLER FOR INTEL SOCKET
The top-flow cooler follows an open frame structure concept whereby both design and dimensions have been improved to eliminate humming and buzzing noises while maintaining a compact overall size. The 92mm fan has been chosen for silent operation and high airflow and comes with an intelligent PWM control to allow users to set the fan speed in their BIOS accordingly.
Choose what's best for your pc
Suppose your current CPU cooler is efficient enough to keep the CPU under throttle temps when at max boost or OC levels. Not just maintaining the operating ambient temperatures, your CPU cooler enhances the performance by countering the overclock and lengthy stress issues. It is always advisable to look for the design, the number of heat pipes, quality, and size of fans, etc., before choosing what you desire.