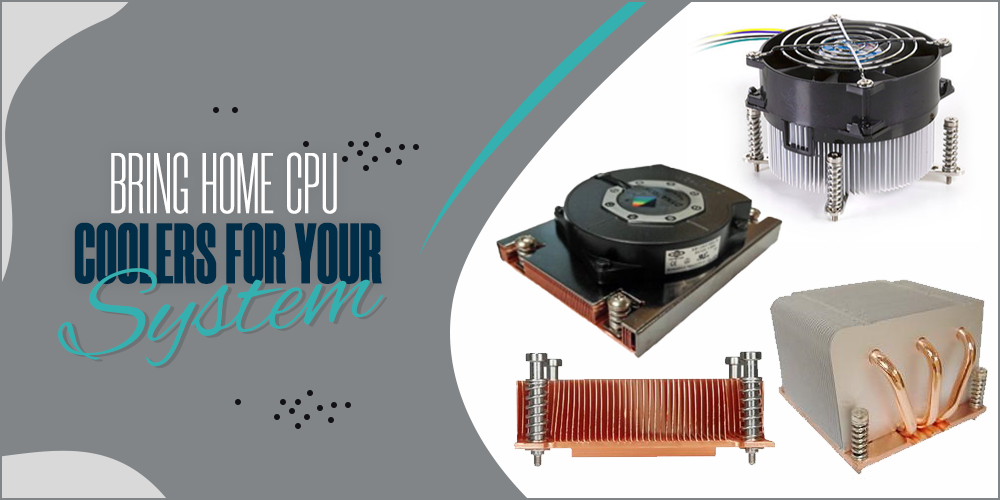 The excessive use of our PCs calls for a unique CPU cooling system, as heating is generally an inevitable byproduct of computer operation. There are many ways to keep your CPU cool, but the most popular and effective is air or liquid CPU cooling. Air or liquid coolers have a variety of features for about any use, from desktops to portable systems. With temperature displays present in some CPU coolers, it becomes even easier to access them. However, laptops have their air cooling system, which is more sophisticated and specially designed for a smaller chassis.
With the CPU cooling, it is important to keep all other parts maintained to the average temperature for a better performance of your PC. So, with a noise-free cooling system, keep that temperature down while you attend back-to-back office meetings or play your favorite power-packed games.
It keeps your system running
CPU coolers are the perfect solution to dissipate the heat produced by the system and ensure to derive the best experience with the PC's performance. They not only keep your system cool but also boost its working efficiency, avoiding all the glitches and buffering.
There are many cooling fans in the market; hence, choosing your CPU accurately as per your needs is important. Many of the cooling fans are supportive of multiple socket types for Intel processors. Also, coolers like the Low Profile Heat Pipe CPU cooler for AMD socket CPU cooling ensure maximum heat transfer efficiency with its copper heat pipes and good airflow.
Protects the processor from potential damage
The safety mechanism of the cooling fans is helpful to protect your PC from any overheating damage. The processor is a main part of the system. Hence it becomes the topmost part of the solution. However, users can choose specific parts to maintain temperatures, such as voltage, hard drive, and video cards, so that cooling is distributed to the whole processor.
The magical air cooler by CPU Cooler for AMD (RYZEN), is highly compact and has varied fan compatibility. With a low noise adapter and copper-aluminum plating, this cooler is the perfect asset to your PC.
Maintains high performance of your GPU
The maintenance of the CPU is undoubtedly the most important factor. In contrast, we cannot ignore that the GPU (graphics processing unit) plays an equally important role in the cooling mechanism. The gaming PCs are at a higher risk of getting overheated quickly, leading to potential damage. GPU cooling solutions are pre-installed; however, if needed, the customized solutions are also available for the better functioning of your gaming PC.
Ease of installation
Be it the arctic CPU coolers or the AMD CPU coolers, these fans are easy to install and do not consume much time; with this, they are easy to operate. For e.g., the Dynatron CPU cooler server intel supports narrow ILM mounting only.
Select the best cooling accessory for your CPU
The digital world is moving towards modernization day by day; hence, we need to maintain its pace. The advantages mentioned above of using the correct
CPU cooler
for your system talk about the maximum efficiency usage. Protection against overheating of your system is a significant factor for a longer productivity duration. Also, visit Cooler Guys to experience the best and wide range of cooling fans and accessories to enhance user experience to the core.